Hiya, Friday, lovely to see you!
Oh, I don't think I have been this glad to see Friday's pretty little face in quite some time.
Friday = fun link ups!
I'm joining in with
Ashley
today for a round of Friday's Letters!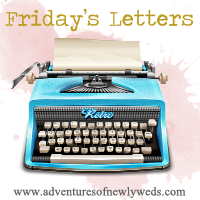 Dear Friday,
I'm so glad you're here. It has been one heck of a week and I am so grateful to see your face.
Your Admirer,
Livin' for the weekend
Dear Mr. Keurig,
Marry me? Seriously. You make me a happy, sane woman with that smooth cup of coffee that you brew me each morning, noon, and night. You have a way with those coffee beans like none other. I think I'd be quite happy to spend the rest of my life with you.
With Love,
A caffeine addict
Dear Mr. Diet Coke,
I hope you're not the jealous type. Mr. Keurig has been meeting my caffeine needs, but you will always be my favorite, my first love. There's nothing like your cold, sweet taste while walking through the oh-so hot campus in the morning.
Always,
Your number one fan
Dear Finals Week,
You can kiss my booty. For reals. I am not looking forward to meeting you on Monday. Take your time getting here because I still have 10 pages to finish.
Dear Dr. Montgomery,
You warned me against procrastination, but your scare tactics didn't work. Try harder next time. But I will say you were right. And I'm stressed to the max. Be kind to me.
Sincerely,
The procrastinator that needs at least a B
Dear Pandora,
Thank you for making these all-nighters bearable. If it weren't for you, I would probably poke my eye out with a spoon from boredom and/or fall asleep on top of my textbooks.
You're the best.
Dear Friend,
I haven't seen you since January. JANUARY. England is a long way away and four months is much too long. Expect a giant hug when I see your face tomorrow! I can't hardly contain my excitement right now (the caffeine might be partly to blame)! Can. Not. Wait. Hurry home, dear!
Waiting (not so) Patiently,
bff
May the 4th be with you!
(Did you know it was Star Wars day?? I'm a total nerd at heart.)
Hope you ladies have a lovely weekend!